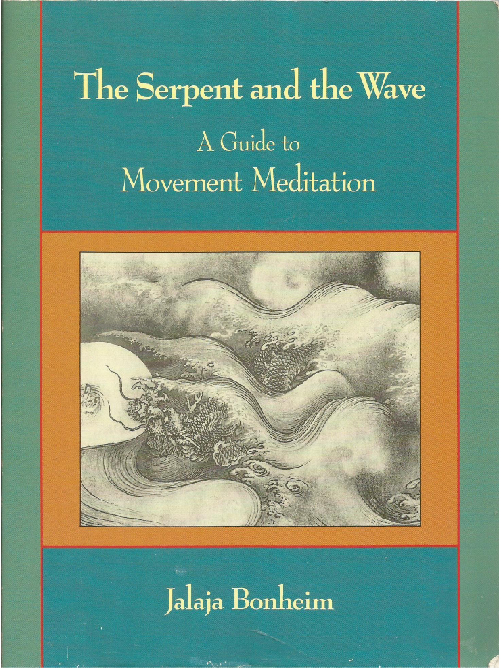 The Serpent and the Wave
A Guide to Movement Meditation
Celestial Arts
(November 1, 1995)
258 pages
ISBN: 978-0890876572
Overview
As long as humanity can remember, we have recognized the power of dance and movement. Many cultures still consider dance a sacred art and a vital part of ritual, worship, and other spiritual practices. Until recently, Westerners who have sought to tap the power and wisdom of their bodies have done so through Eastern disciplines such as yoga, Tai Chi, and Sufi dancing.
In The Serpent and the Wave, Jalaja provides a modern, Western perspective on movement meditation, healing, mind/body integration, and personal power. Filled with simple, clearly-illustrated exercises and meditations, this unique source book has real-life tools that anyone may use.
"This luminous book brings great gifts of clarity and ease. With beauty, respect, and exquisite sanity, it lets us rediscover the deep grace that connects and flows through mind, heart, body, and world."

—Joanna Macy, author of World as Lover, World as Self
To lose oneself in the rapture of movement and enter states of trance or ecstasy is quite natural. Children do so all the time and in their play rediscover the most ancient ways of altering consciousness. Movement meditation is a conscious continuation of this journey into our bodies, into ourselves.
---
Order the Book!
Praise
"What a joy to find so wise and gentle a guide to movement meditation! As I followed Jalaja Bonheim's exercises … I thought, if one book can transform our age-old fear and mistrust of the body into a love affair, this is it."
—Sherry Anderson, Ph.D., coauthor of The Feminine Face of God
"This luminous book brings great gifts of clarity and ease. With beauty, respect, and exquisite sanity, it lets us rediscover the deep grace that connects and flows through mind, heart, body, and world."
—Joanna Macy, author of World as Lover, World as Self
"The Serpent and the Wave is not only an important work, but one that adds fascinating and subtle dimensions to meditation."
—Diana Saltoon, author of The Common Book of Consciousness
"The Serpent and the Wave is a pleasure to read and experience. It flows in the 'water-course way' of Tao. A truly 'Wu-wei' (effortless) guidebook for the mind, body, and spirit."
—Chungliang Al Huang, author of Thinking Body/Dancing Mind and Quantum Soup
"Chock full of ancient quotes and movement routines. Solid, practical and mystical at the same time. A workbook as well as the best movement meditation book I have ever read. Did I mention that it is fun, too?"