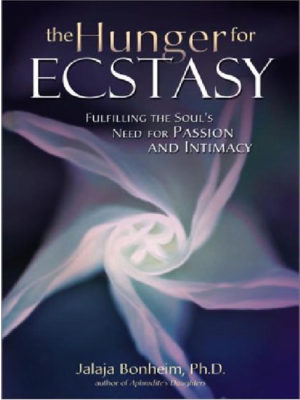 The Hunger for Ecstasy
Fulfilling the Soul's Need for Passion and Intimacy
Rodale Press; 1St Edition edition
(February 1, 2001)
224 pages
ISBN: 978-1579541163
Overview
Do you believe ecstasy is a rarefied state enjoyed only now and then by exceptional people? Do you yearn for more intimacy and passion in your life? In this book, Jalaja Bonheim makes clear that ecstasy (both physical and spiritual) is neither a luxury nor an aberration. It is your birthright, an essential form of nourishment that the soul requires for its well-being.
Join Jalaja on a journey with poets, mystics, lovers, and monks to learn how to infuse passion into all aspects of your life. Drawing from many religious and cultural traditions and with anecdotes from the lives of the thousands whom Jalaja has counseled, she provides inspiring ways to feed your spiritual hunger through greater intimacy with yourself, others, and Spirit. With illuminating chapters on sexuality and marriage, Jalaja brings all aspects of life into the ecstasy equation.
Jalaja also discusses fear, self-consciousness, and the other common emotions that pose roadblocks to our fulfillment, along with the repercussions we face when we starve ourselves of soul nourishment.
The Hunger for Ecstasy is about cultivating the joy and passion that will pull your spiritual life together.
"In a world that is starving for ecstasy, this book offers powerful healing medicine. A passionate and wise invitation to open our lives and our souls to ecstasy, recognizing it for what it really is—the experience of our own divinity."
—Deepak Chopra, author of How to Know God
Our hunger for ecstasy is not a problem demanding a solution, but a sacred force humming with intense energy and vitality. Don't try to get rid of this hunger, as if it were a disease, but welcome it as a guide along your path. It is here to stay and is, in fact, as much a sign of health as is your appetite for physical food.
---
[ezcol_1half]
Buy the Book
[/ezcol_1half] [ezcol_1half_end]
Buy the eBook!
[/ezcol_1half_end]
---
Praise
"In a world that is starving for ecstasy, this book offers powerful healing medicine. A passionate and wise invitation to open our lives and our souls to ecstasy, recognizing it for what it really is—the experience of our own divinity."
—Deepak Chopra, author of How to Know God
"A brilliant restatement of the ecstatic path of devotion, tailored to modern times with reference to, but without reliance on, established religious traditions."
"A wonderful book. Bonheim helps us to understand that our hunger for ecstasy is not a problem demanding a solution, but a sacred force humming with intense energy and vitality. This book has important timely insights into our real freedom."
"Jalaja's approach to intimacy and passion is heartwarming. Her book describes what we all yearn for and so often don't get because we lack the courage to strive for it. This is a book for lovers and partners as well as for those who try to make sense out of their own life. It is written with great love for life and will surely warm every reader's heart. Highly recommended."
"Finally we're given permission to honor our desires and pursue them to our heart's content. Jalaja interweaves an historical perspective on our patriarchal culture and its influences, and calls a spade a spade without slamming men or organized religion. The book includes a number of practical, very helpful exercises for exploration. I got an extra copy for the new man in my life."