Nautilus Awards

FOR IMMEDIATE RELEASE – NAUTILUS AWARDS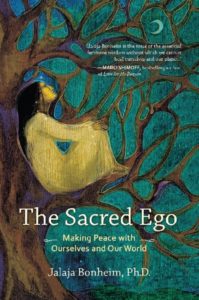 April 21, 2016
Berkeley, CA— North Atlantic Books is delighted to announce that Jalaja Bonheim has been awarded the grand prize in the 2015 Nautilus Awards for her book, The Sacred Ego: Making Peace with Ourselves and Our World. In addition to the grand prize over all, Bonheim was also awarded the gold medal in the category of social change.
In The Sacred Ego, Bonheim tackles the myth of the ego—supposedly responsible for our greed, selfishness, and violence. In contrast, the book approaches the ego as a sacred function worthy of honor and gratitude. Using stories from Bonheim's work with groups from around the world, The Sacred Ego explains why our world is in crisis and how we can support the unprecedented transformational process that's underway.
Nautilus award winners are selected for their exceptional literary contributions to spiritual growth, conscious living, high-level wellness, green values, responsible leadership, and positive social change as well as to the worlds of art, creativity, and inspirational reading for children, teens, and young adults.
Nautilus awarded the grand prize to Jalaja Bonheim "in gratitude and recognition for her work in bringing a deeply healing book to all of us." They added on their website, "May the radiance of her wisdom, caring, practical recommendations, and community-spirit bring hope and encouragement to thousands of people in many nations, cultures, and species."
Jalaja Bonheim is founder and director of the Institute for Circlework, and is one of the world's foremost experts in the use of circle gatherings as a tool for healing and empowering women. She has mentored hundreds of leaders from around the world, and has gathered international acclaim for her groundbreaking work with Jewish and Palestinian women in the Middle East.
Publicity Contact: Julia Kent
[email protected]
510-549-4270 x45
Nautilus Awards Nautilus Awards Nautilus Awards