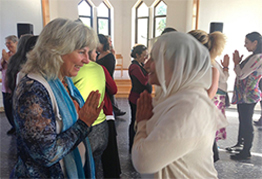 UPCOMING EVENTS:
March 23-25, 2017 in Beit Ashams, Bethlehem 
"Women's Retreat in Palestine"
Please, contact Nimala Kharoufeh, [email protected] for information.
March 30 – April 1, 2017 at Ein Kerem near Jerusalem
"Women's Retreat in Israel"- Learn More
Please, contact Aura Hammer [email protected] or Yasmin Talmon, [email protected] for information.
Israel is the hub of Judaism, Christianity, and Islam, as well as the nucleus of one of the planet's most long-standing, challenging, and dangerous conflicts. Despite the vast amounts of money and energy spent on trying to resolve the conflict between Israel and Palestine, the situation has not improved.
The Institute for Circlework believes that one of the main reasons for this is that outer changes are not enough. For there to be lasting peace, inner changes must occur in the way people think and feel. Political solutions alone can't achieve this-a transformation of consciousness is needed. Circlework is a powerful tool for inspiring these changes.
The empowerment of women, especially of strong female leaders, is a crucial key to peace, both in the Middle East and elsewhere. Therefore, while Circlework is also available to men, our work in Israel focuses on women. Since 2005, founder & director Jalaja Bonheim has been offering circles for Jewish, Israeli Arab, Palestinian, Druze and Bedouin women that aim at empowering them to serve as effective agents of peace in their communities. Our goal is to build a community of Global Circlework leaders.
Our work in Israel & Palestine has three branches:
We organize talks, workshops, and retreats in Israel and the West Bank. Ranging from two-hour circles to four-day residential retreats, these gatherings allow people from diverse backgrounds to experience the peace-bringing power of Circlework. Participants treasure these circles as life-changing experiences that send ripples of healing through their families and communities.
We provide scholarships for female leaders from Israel and Palestine to attend the Circlework Leadership Training in the United States. They develop courage, confidence, and strong leadership skills, and emerge with a sophisticated understanding of circle dynamics, new tools, and an enduring support system for their continued development.
April 2014 brought the first EVER Circlework Leadership Training to the Palestinian women of the West Bank. The Circlework Leadership Training empowers women and gives them the tools and understanding they will need to hold their own circle gatherings within their communities. Their are now several Circlework Graduates actively practicing Circlework across Israel and Palestine.  Spring of 2017 Jalaja is returning to offer several events but not without your help! There is an urgent need for donations, so please, make a tax deductible donation today!