"Jalaja Bonheim is the voice of the essential feminine wisdom without which we cannot heal ourselves and our planet."
— Marci Shimoff, #1 NY Times bestselling author of Love for No Reason & Happy for No Reason
---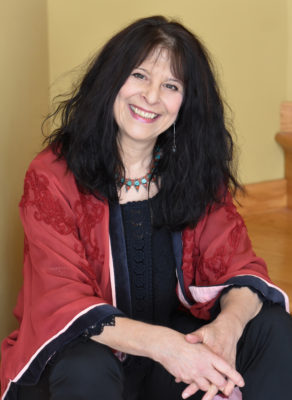 Jalaja is a cutting edge thinker, award-winning author and inspiring speaker. Beyond that, she is a female visionary and a uniquely gifted group facilitator who has dedicated her life to empowering women and the sacred feminine presence within all of us.
In her workshops and retreats, women from all walks of life, faiths and cultures connect in a spirit of deep authenticity, openheartedness, freedom and joy. Here, they relearn the meaning of sisterhood as old skins are shed and new possibilities are born. Old believes dissolve amd new insights appear along with a new sense of centeredness, balance and peace. Women leave empowered and clear, with full hearts and renewed hope.
Jalaja has trained hundreds of women leaders in the art of facilitating circles that address our hunger for more authentic communication and connection, inner peace and spaciousness. Graduates of her Circlework Training include psychologists, social workers, professionals, ministers, rabbis, business leaders and peace activists.
Jalaja Bonheim is a true global citizen who bridges cultural barriers with ease. Raised in Germany and Austria by Jewish parents, she received her Ph.D. in English and German literature from the University of Freiburg. For two years, she taught at University of Warwick in England. She then abandoned the academic world to study classical temple dance in South India. Today, she lives and works in the United States.
Jalaja mentors women leaders from India, Afghanistan, Australia, Kenya, India, Germany and other nations, and has attracted international acclaim for her groundbreaking work with Jewish and Palestinian women in the Middle East. Since 2005, she has been empowering them to serve as agents of peace in their communities. In 2010, she led the first women's retreat ever offered in the West Bank, and in 2014, she led the Circlework Training in the West Bank. Today, her graduates are leading circles for women in both Israel and Palestine.
Jalaja is the founder of the Institute for Circlework, a non-profit organization dedicated to encouraging the practice of Circlework around the world. Since its beginnings in 2001, the Institute for Circlework has supported hundreds of participants and trainees from around the world. The Institute for Circlework is almost entirely funded by the donations of women who, having experienced the healing power of Circlework, want to make it available to others. For more information, please visit www.instituteforcirclework.org.
Jalaja is a riveting, engaging speaker who inspires hope with her stories, her wise, heartwarming presence and her keen, penetrating insights. Besides introducing exciting new ideas and providing down-to-earth, practical guidance, her keynotes inspire by giving people a new sense of their journey's meaning and significance.
Jalaja is the author of many books and articles including: